"But overall, it is not the craft of composition that stays with the listener, but what I would call the art—the emotional and spiritual content of these genuinely lovely pieces. It is, as Salerni promised, music that sings and dances." -Henry Fogel, review of "Touched" CD in Fanfare

"His music 'pulsated with life, witty musical ideas and instrumental color.'" -Philadelphia Inquirer
"…impressive was Mr. Salerni's 'Bad Pets,' three playful cabaret songs based on Mr. Gioia's sly 'Alley Cat Love Song,' Mark Doty's frisky 'Golden Retrievals' and Robert Frost's placid 'Cow in Apple-Time.'" – The New York Times
"My passion to write music arises out of a most basic human desire to touch other human beings. I compose because it gives me such pleasure to enable others to laugh, to dance, to feel tender, to be entertained. If music doesn't communicate to an audience, why write it?"
– Paul Salerni
——————————————————————————————–
Some upcoming events/concerts featuring Salerni's music in case you're in these particular areas:
Friday, April 21: Humanities Center presentation of the first three scenes from Haunted, a dance opera for baritone, three dancers, string quartet, and percussion. James Bobick, baritone, Dalì Quartet, Miles Salerni, percussion. 4:15 p.m. Room 143, Zoellner Arts Center, Lehigh University.
Friday, May 12: Performance of "Bed" and "Rocker" from Something Permanent. Bowers/Fader duo. Composers Concordance Concert, 7 p.m. at Players Theater, 115 Macdougal, Street, New York, NY.
Monday, May 15: Performance of Shinichi Rag at Diller-Quaile School Recital, Merkin Hall, New York, NY.
Saturday September 30 (8 p.m.) and Sunday, October 1 (3 p.m.) : Performances by the Bowers/Fader duo of two song cycles on poems by David Ferry (Ekphrastic Songs, Finding One Self) a setting of a Kevin Young poem entitled Beyond Words, and a performance of Something Permanent. Also featured is a performance of Family Letters (Dana Gioia) by Hub Baker Hall, Zoellner Arts Center, Lehigh University, Bethlehem, PA. Also included on the concerts are works by John Heiss, Louis Karchin, Roberto Pace, as well as the Concord Sonata, Stephen Drury, pianoforte.
————————————————————————————————————————-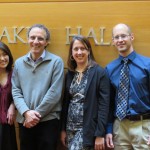 East Winds Concert on March 6 featured premieres of commissioned pieces by Paul and three of his former students–Tae Sakamoto, Heather Gilligan, and Mike D'Ambrosio
—————————————————————————————————————————-
Please check out YouTube videos of the four songs from "For Love or Money" (poems by Dana Gioia):
Please read Fanfare review of Touched-Henry Fogel

Click here to see 'Bad Pets' from Jan Opalach's Faculty Recital at the Eastman School of Music
---