"But overall, it is not the craft of composition that stays with the listener, but what I would call the art—the emotional and spiritual content of these genuinely lovely pieces. It is, as Salerni promised, music that sings and dances." -Henry Fogel, review of "Touched" CD in Fanfare

"His music 'pulsated with life, witty musical ideas and instrumental color.'" -Philadelphia Inquirer
"…impressive was Mr. Salerni's 'Bad Pets,' three playful cabaret songs based on Mr. Gioia's sly 'Alley Cat Love Song,' Mark Doty's frisky 'Golden Retrievals' and Robert Frost's placid 'Cow in Apple-Time.'" – The New York Times
"My passion to write music arises out of a most basic human desire to touch other human beings. I compose because it gives me such pleasure to enable others to laugh, to dance, to feel tender, to be entertained. If music doesn't communicate to an audience, why write it?"
– Paul Salerni
——————————————————————————————–
Follow Paul's Song of the Week (one art song each week for a year): Here's week 7's song and the complete Something Permanent cycle (7 songs in total). His the CC tab if you want to see the words go by or hit See More and scroll down to see the poems in their entirety.

Some upcoming events/concerts featuring Salerni's music in case you're in these particular areas:
Saturday, November 18: Arrangement of Piazzola, Le Grand Tango, Pennsylvania Sinfonia Concert. 7:30 p.m. First Presbyterian Church, Allentown, PA
Saturday, November 25: "Land" and "Apartment" from Something Permanent. Bowers/Fader Duo at Taconic Music. 4 p.m. Manchester Community Library, Manchester, VT.
Sunday, December 10: A Bethlehem Carol, Lehigh University Christmas Vespers. 4 and 8 p.m. Packer Chapel, Lehigh University, Bethlehem, PA
————————————————————————————————————————-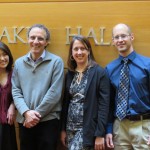 East Winds Concert on March 6 featured premieres of commissioned pieces by Paul and three of his former students–Tae Sakamoto, Heather Gilligan, and Mike D'Ambrosio
—————————————————————————————————————————-
Please check out YouTube videos of the four songs from "For Love or Money" (poems by Dana Gioia):
Please read Fanfare review of Touched-Henry Fogel

Click here to see 'Bad Pets' from Jan Opalach's Faculty Recital at the Eastman School of Music
---